Last Updated on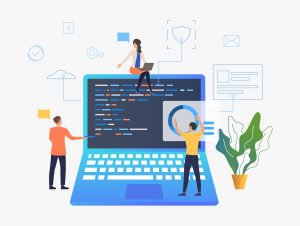 This is the most frequently asked question in the world of mobile app development. Mobile apps have become an integral part of businesses. A company or business that has its app can't be compared to another that doesn't. A mobile app allows your customers to have direct access to your goods or services at any time or place.
When we talk about developing an app, one thing that is for certain is – You get what you pay for. It is as simple as that. Are you new to developing custom software, then this article will tell you all you need to know.
Developing an app requires skill and professionalism, which not everyone has. There are two ways on how you can go about developing an app. You can either DIY if you have the skills. Or hire a mobile development company. Seeking mobile app development services from a certified and professional company is a guarantee that the final output will be superb.
The Estimate Cost
Before we dive into the specifics, the cost when you outsource software development services ranges between $2,000 and $300,000. In the article below, we will try some of the factors which determine the cost of developing an app.
The Average Cost of Developing an App Worldwide
The average cost of developing an app worldwide will cost you $50 an hour. They kind of app also matters a lot when determining the cost. For example, a basic app can cost you $30,000. A medium complex app can cost from $45,000 to $70,000. For a complex app, you can expect to pay more than $70,000.
When you do a Google search of the best software/mobile development companies, you will be presented with thousands of results, each claiming to be the best of the best. However, this doesn't mean that you should pick any company you come across. Research plays a critical role. You should ask for previous success stories while comparing the costs. We also strongly advise you to stick to only experienced and reliable software development companies.
The hourly rates of developing an app vary from country to country. In the US, you can expect to pay up to $130 in an hour, whereas in the UK, it is likely to cost you up to $70 an hour. This price may vary depending on whether the app being developed is for iOS or Android. In countries like Indonesia, you can pay as low as $12.
Outsourcing or Local Development also Affects The Overall Cost of Developing an App
As mentioned above, you could also outsource software development rather than having it developed locally. Whichever you pick, you should know that it will affect the overall cost. It is, therefore, up to you to weigh out the pros of each and identify which works best for you.
Developing an app locally gives you a deep involvement in the creation process. You also get to communicate with the team thanks to their close proximity. When you outsource app development services, you are assured of a higher level of expertise, reasonable costs and gives you the flexibility of focusing on other aspects of your business.
The choice to outsource or develop an app locally is entirely up to you. Depending on your mobile app needs and budget, you should pick whichever suits you best.
The Relationship between Time and Cost in Mobile App Development
To answer this question, you should know that not all apps are the same. This is something you have probably seen irrespective of whether you use Android or iOS. The most complex apps take over 1200 hours to be fully developed, whereas basic apps take less than 700 hours.
The more time it takes to build your app, the more you will have to pay for it. This is the key relationship between time and cost when it comes to developing an app.
Additional Factors that Affect The Cost of Developing an App
• Features and Functionality
These two things determine the complexity of an app. An app with lesser features won't cost significant amounts of money.
• The Visual Design
If you intend for your app to have a unique user interface, you should be prepared for additional expenses.
• Platform
The platform you intend to run your app on also matters. Be it iOS or Android. Each does have its own cost.
The Bottom Line
Developing an app can be stressful, time-consuming and costly. However, when you hire a professional mobile app development company. You can be assured of getting a great app at cost-friendly prices.
At Osbay.com, we provide both android/iOS app development at an affordable cost. We are a software development company that has been in the market for an extended period. As a result, we are familiar with new trends in software development. Customer satisfaction is our top priority. This is why we work hand in hand with clients in developing an app that meets all their taste and preference.