Last Updated on
What Is a Front End Web Development?
Front end web development is the development of the graphical user interface of a website, consider of it as GUI but for a website, think of it as the windows in front of the shops, it can be said that it is the face of a website as well. It is generally created through the use of HTML, CSS, JavaScript etc., so that the users can view and interact with that website.
Table of Contents
Top Ten Front End Development Companies in the World   1
What Is a Front End Web Development?  1
The Importance of Front End Web Development for Business Success  2
Top Ten Front End Development Companies In The World   2
The front end of a software program or website is everything that user can touch or interacts with, as it has been stated above, from a different point of view the front end is synonymous with the user interface. But from a developer standpoint, it is the interface design and the programming that makes the interface function. In a lose sense, a combination of development, technology, designed graphics, usability, creativity, and what people are more likely to be drawn to; it is what holds value for all of the above. What is showing to the user, what people are interested in and more likely to click on, that is a brief summary and the shortest way to explain what  front end web development is all about, if it is has to be summed up to a sentence what front end is about, it really only has one general responsibility: to make sure any visitor to the website can easily understand and interact with the page or website. Through the combination of design, programming and new technology that makes what website looks like, or put it plainly, to code a website's appearance which also makes one of the most important part easier, debugging.
Front end is called the client side as the client side refers to the part of the application that users see and interact with directly. It is everything that users see on the screen, including menus, navigations, buttons, graphics, and many other website features. Simply put, the front end is a combination of two distinct elements: graphic design and user interface. The role of the designers and web developers are crucial in creating an attractive front end that will bring in more interactive users and clients which leads to the success of the business.
The Importance of Front End Web Development for Business Success
In recent years, the rapid growth of web technology has revealed significant trends in the transformation of Hypertext Markup Language (HTML5) into a global web consortium. This steady growth propels front end development to reshape the web industry. Many businesses are realizing the importance of front end development frameworks and libraries such as React, Angular, Ionic, and others in defining the front face of brand identity. Improved user experience is their top priority in website development.
A functional, clean, and appealing website is required for a successful business to appeal to clients and maintain their interest. The development of a website's front end is critical to this concept. The wrong kind of development not only makes an unsightly appearance, but it also drives away any existing or potential business. To fully support the company, the programming and layout of a website must take into account the business purpose, branding, and customer needs. In short, the front end development of a website can be considered as the face or the mirror of the business.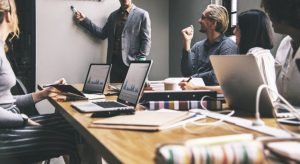 Top Ten Front End Development Companies In The World
A user-friendly, well-structured and useful website is a must of business visibility. The front end is an essential IT service as it is the client side interface. So, it is difficult to just choose the top ten front end companies out of thousands of companies in the world that provide the front end service. However, we have hand-picked some of the front end development companies that ranked the top ten based on their: proven years of effective working to demonstrate their active presence in the web development industry, client retention as a percentage to describe the companies' business relationships, excellent Firm rating to demonstrate the company's reputation according to the client feedback, expertise and technical exposure of the company, projects and services that are operated under their respective brand names.
Innofied was established and first begun its journey in 2012 and has since grown to become one of the well-known web and application development companies offering premium front end services. In addition, Innofied is also an outstanding front end development company that has delivered many successful projects and was named the top mobile application developer in Australia by Clutch in 2018. With more than 100 team members, Innofied deliver their top-notch service, providing innovative and unique digital tools to more than 300 clients. They have delivered successful projects in industries like education, retail and ecommerce, transportation and logistics, health care and fitness, food delivery and restaurant, fintech, event management, utility and services. Moreover, they received excellent ratings on both GoodFirm and appfutura. Innofied has 75% rate of client retention and is an award winning company with result- oriented approach.
Clarion Technologies
Clarion Technologies is a multiple award winning company located in India that was first established in the early 2000 with an approach of "Customer Comes First". Clarion has more than four hundred talented developers and is well known for rendering niche technologies. Clarion is serving over one thousand clients across North America and Europe and they have successfully delivered over 1100 SMB clients with virtual teams. Clarion is referred as a top web development company and is known best for its service for web development, content management systems, cloud strategy and application development. However, their service is not limited to that. They also cater for frameworks, programming and scripting, E-commerce systems, BI and big data focus and BI and big data solutions. Their service and solutions include web, mobile, IoT, analytics, applications, testings, R&D lab, and Agile. Clarion Technologies has 97% rate of client retention and has 5-star rating on GoodFirm.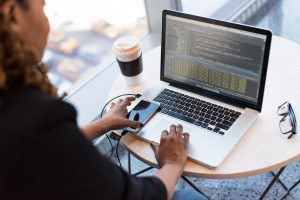 Finoit Technologies
Finoit Technologies is a leading software product engineering company that helps global enterprises meet their business execution demands and challenges through the implementation of mission critical applications. They were established in 2010 and is a market leader in digital transformation service, connecting thousands of people to technologies. Finoit Technologies build intuitive, scalable, and secure software, mobile and web application products. With scalable products and an intuitive digital experience, Finoit Technologies is serving more than two hundred and fifty global clients from which the majority of the clients come from North America, Europe, and Australia. Finoit Technologies is best known for their product engineering services, IoT consulting and product development services and digital transformation services. The industries they cater are ‌automotive and transportation, banking and finance, education and e-learning, energy and utilities, healthcare and life sciences, media and entertainment, non-Profit, retail and consumer products, technology and communication, and travel and hospitality.
Konstant Infosolutions
Konstant Info is a top-rated web and mobile application development company in India and the United States. With over two thousand and five hundred satisfied customers worldwide, they have delivered over three thousand and five hundred successful application and have been focusing their efforts on building long-term relationships for the past 18 years. They have worked with more than thirty industries, large enterprises, and start-ups to create fast and sharp applications that are highly performant and cost-effective. Konstant Infosolutions is popular for their mobile application development, cloud computing, IoT development and wearable application development services. They have 64% of client retention. Konstant is committed to providing the most satisfying combination of skills in meeting business requirements and is eager to expand its success graph. The company is ranked as one of the top mobile app companies in India by Themanifest.co 2020 and as one of the top mobile app developers in 2020 by GoodFirms.
Value Coders
Value Coders was first established in 2004 and is known for have the best IT outsourcing services worldwide. They have been a global delivery supplier IT outsourcing servicing all the over the world for seventeen years. Value Coders combine business with proven methodologies and technologies, as well as technology experts to produce high-quality front end development solutions that add value to the company. The company has also been certified as "The Best Place to Work". Value Coders is known for having top-notch service in software product development, mobile application development, digital transformation, and cross-platform application development. Some of their clients include Dubai Police, Capgemini, Track Opinion and UNESCO. For the past seventeen years, Value Coders has served more than two thousand and five hundred clients and they have 97% rate of client retention with 4.97 rating on GoodFirms.
INGIC
INGIC was first founded in 2012 and is known for turning ordinary targets into extraordinary products. INGIC is a market leader in mobile app strategy, design, and development industry. They are serving more than one thousand and five hundred clients in over twenty-nine different countries with more than two hundred associates and partners. In addition, they are also home to more than six thousand and five hundred award winning projects. They refer to themselves as a creative digital agency that focuses on connecting customers with businesses through state-of-the-art digital marketing solutions. They cater small and medium businesses, e-commerce, business services and advertising and marketing. INGIC is famous for their mobile applications, software development, web and content management system development and corporate branding service. INGIC is trusted by world's leading organizations like PORCHE, CITIZEN, LG and many other more.
CSS Chopper
CSS Chopper was first founded in 2009 and it is a web design and development company with twelve years of experience in the industry. CSS Chopper is a trustworthy web development that is home to a world-class team of brilliant web developers and professionals. They have catered health care, retail, and manufacturing industries. They have provided services and solutions in front end development, content management (CMS), web development, e-commerce and migration services, and PHP featured projects. They have also served well known organizations like Coca Cola, HP and many other more. Since their establishment, they have been serving many small and medium size businesses. CSS Chopper has delivered more than nine thousand projects till date with more than seven thousand and five hundred satisfied clients, and they have 97% rate of client retention.
Cyber Infrastructure Inc.
Cyber Infrastructure, also known as, CIS first began its journey in 2003 and is considered as a first-class custom software development company. With more than twelve years of experience in the IT industry, CIS has the knowledge to assist their clients with all of their technology needs. They consistently provide the best solutions to a diverse global customer base and have extensive experience in professional IT requirements. Cyber Infrastructure's core value is PASTA which was taken from the initials of passion, appreciation, simplicity, trust, and accountability. They have offered services in mobile application development, android application development, blockchain development and web application development. They have successfully delivered more than five thousand projects with over three thousand satisfied clients. CIS is a Microsoft Gold certified partner and Magneto Silver Solution partner. They have served world's famous organizations like NOKIA, ebay and British Telecom.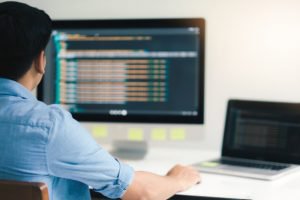 Pixel Crayons
Pixel Crayons is an award-winning software outsourcing firm and was first founded in 2004. Pixel Crayons is famous for giving their client's business wings to fly and lead the competitive market by incorporating brand new technologies into their client's work strategies. They are the home to more than five hundred talented employees and have delivered more than 13,800 projects successfully with over six thousand and eight hundred happy clients in more than thirty-eight countries. Pixel Crayons is best known for their services in web development, custom software development, mobile application development and blockchain development. Based in India, Pixel Crayons is well-known among their clients for their agile/DevOps development process, SLA-driven approach, and on-time project delivery. They are trusted by leading organizations like Volkswagen, PUMA, Warner Bro, Adobe and many other more and they have 97% rate of customer retention.
Ice Cube Digital
Ice Cube Digital is a client-client-centric e-commerce development company and was established in 2008. They are a mobile and web development firm with over 6 years of experience in front end development solutions and Ice Cube Digital team has completed Magento, WordPress, PHP, and mobile application projects successfully. Ice Cube Digital is rated as the top web development company and received 4.9 rating on GoodFirms. For valued customers, they like what they do and that is how they evaluate the service offered. Ice Cube Digital has provided services in e-commerce, website design, shopify development, e-commerce website development and magneto development.
Summary and Final Thoughts
If people know how to incorporate the latest technologies in their website development, their uncertainties will turn into solutions, and their dreams will become a reality. Front end development plays an important role in business growth and the creation of a distinct brand identity. Front end development firms continue to grow as brand new technologies, new business models, and growth opportunities emerge. Due to the high level of competition, clients are always looking for these first class companies to expand their front end development services. It will be interesting to see how the companies change their custom model in the future to ensure 100 percent client satisfaction.